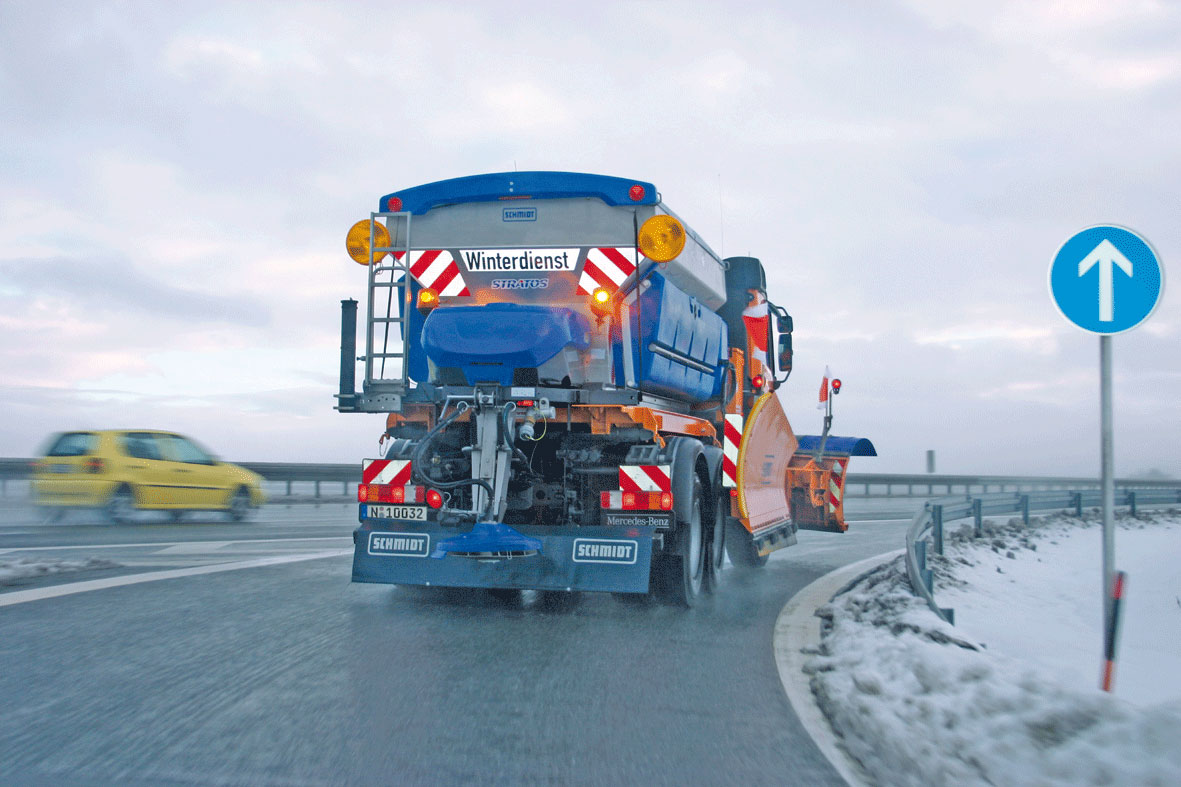 Spreaders
The SCHMIDT Group, which is active world-wide and has an international service network, offers made-to-measure solutions for all possible de-icing operations. The aim of the innovative silo spreaders with their electronic control systems is to provide extremely precise dosage and distribution of the spreading materials. The modular construction makes possible a variable combination of the component parts which fits in with the individual operational needs. High quality plastic and stainless steel parts make for lasting durability, which is an important criterion for resale purposes. There are SCHMIDT spreaders for every carrier vehicle and even if the vehicle is changed, they can in many cases be adapted without difficulty.
De-mountable spreaders
For almost any carrier vehicle, SCHMIDT offers the corresponding solution. De-mountable spreaders with a hopper capacity of 0.6 to 9.0 m³ make it possible to buy the right machine for the right job.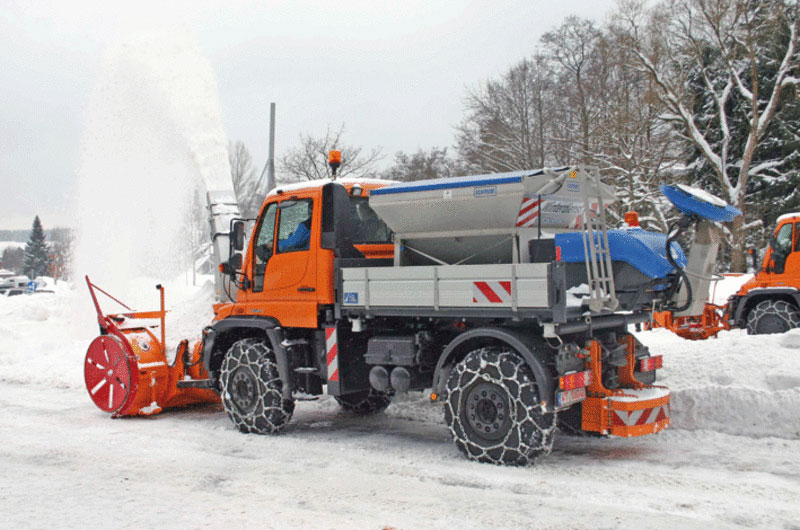 Towed spreaders
The towed STRATOS spreaders guarantee a maximum of spreading flexibility. The integrated power source means that the STRATOS-trailer only has to be attached to a towing vehicle and the spreading can begin immediately.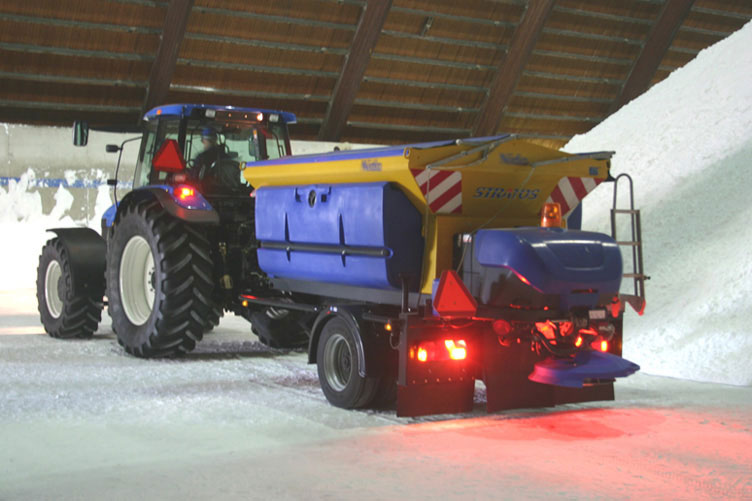 Attachable spreaders
The attachable spreaders in the TRAXOS construction series were specially conceived of for tractor mounting and professional use either by municipalities or by private businesses.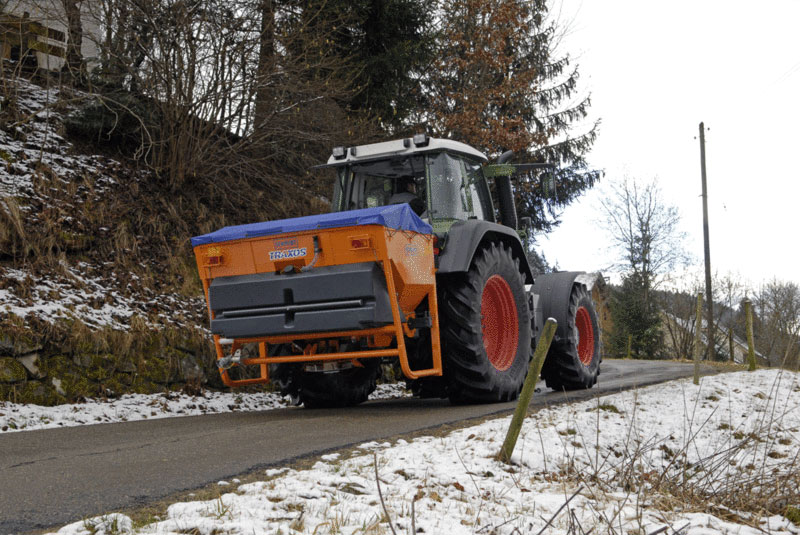 Combination machines for spraying & spreading
The combination machines for spraying & spreading of the STRATOS COMBI SOLIQ series make it possible to combine solid, half-liquid and liquid spreading materials and distribute them in one operation.
Stratos Combi SOLIQ
In icy conditions it is very important to use the appropriate spreading method efficiently and with the right de-icing agent, in order to achieve the highest possible road safety. The COMBI SOLIQ combines all weather-specific spreading methods: solid, liquid, dry and freely elegible de-icing agent mixtures in just one machine. The optimal solution for every situation.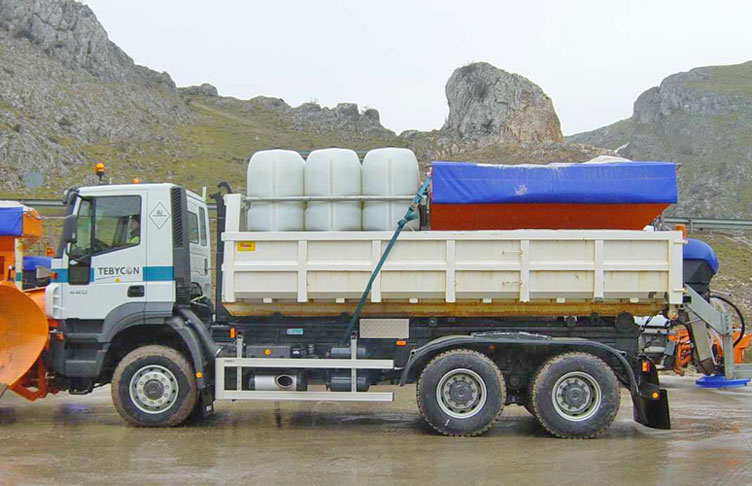 Salt solution stations
The SCHMIDT salt solution stations provide for continuous production of the necessary brine for the spreading of pre-wetted salt.
P 2000, S 2000, S 6000P 2000, S 2000, S 6000
The brine stations from SCHMIDT are easy to use, operationally efficient and offer a cost-effective method of producing brine.