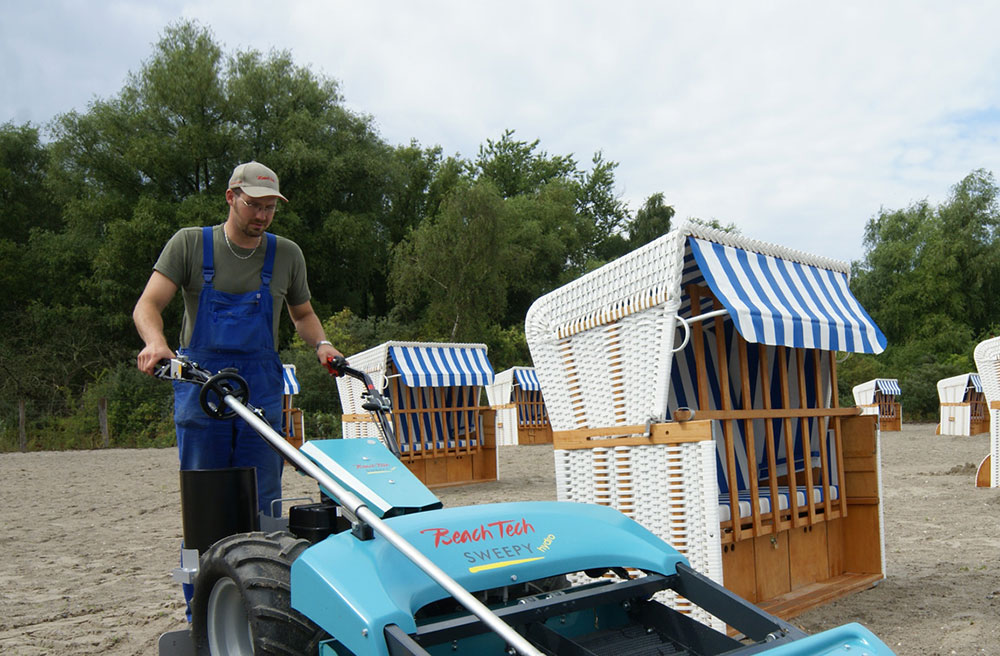 The BeachTech Sweepy Hydro beach cleaner is the efficient, low-cost supplement to our larger beach cleaners, the BeachTech 3000, BeachTech 2800, BeachTech 2000 and the self-propelled BeachTech Marina. The Hydrostatic drive makes the BeachTech Sweepy Hydro especially easy to operate.
Beach cleaning with BeachTech Sweepy Hydro beach cleaner: efficient, 
multifunctional and economic
We have engineered this mini beach cleaner into a multifunctional beach cleaning machine: in a matter of minutes, with the BeachTech Sweepy Hydro's modular quick change system, you can turn this unit into a lawn mower, a snow blower, a rotary tiller or a sweeper to work in additional non-beach applications. Its small size and outstanding maneuverability make the BeachTech Sweepy Hydro perfect for cleaning and leveling small beaches, children's sand boxes, beach volleyball courts and other sand areas. These various applications render the BeachTech Sweepy Hydro a true year round machine.
The BeachTech Sweepy Hydro beach cleaner is easy to operate and extremely maneuverable, allowing the user to clean below sun shades, between beach chairs and all other small difficult areas of your beach!
Thorough beach cleaning with the BeachTech Sweepy Hydro beach cleaner
This beach cleaner has the following vantages: deep cleaning in dry sand, as well as swift cleaning in wet sand, are both possible due to the new shaking/screening system – now a side-by-side double screen – which minimizes the impact of the vibrations on the machine frame. Even on very soft sand, a reliable operation is granted thanks to the deep-set center of gravity and the high stability of the beach cleaning machine. The forward and reverse gears of the 9.1 HP air-cooled 4-stroke engine can be infinitely adjusted, providing excellent power for all your beach cleaning needs. The collecting container has a 44 liter capacity and can be emptied easily.