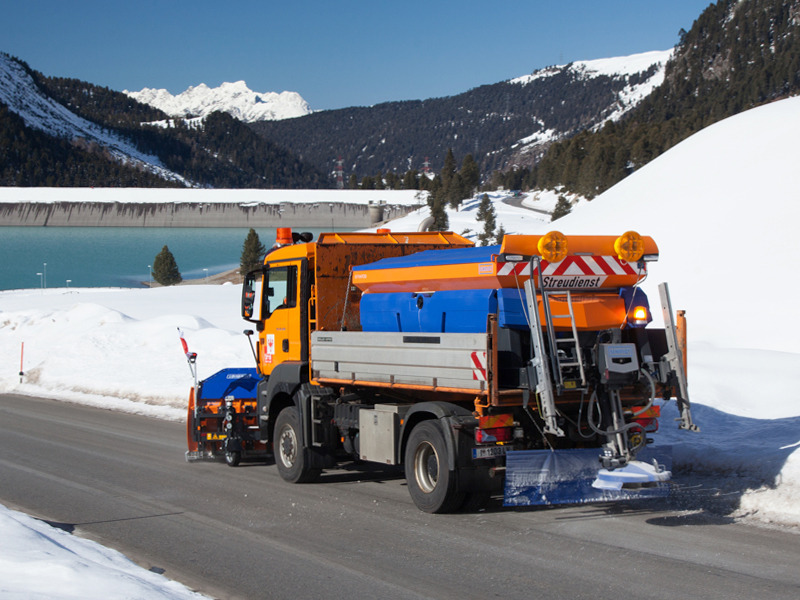 Stratos spreaders by Schmidt: Maximum versatility combined with a high degree of economic efficiency!
Employed on all streets, roads and motorways throughout the world: spreaders by Schmidt! The great success of these products reflects our excellent reputation for manufacturing products with outstanding value for money. Owing to intensive dialogue with our customers, we regularly develop innovations which set new standards for the entire sector: The name Schmidt stands for forward-looking quality which pays off for you day-by-day.
The concept of the Stratos: Thinking holistically, developing with foresight, working sustainably.
Stratos spreaders are counted among the best of their kind on a worldwide scale. The reason for this is a holistic product concept, incorporating and perfectly synchronising all essential details such as flexible modular design, accurate distribution systems, intelligent control systems as well as highly effective corrosion protection. This results in unique economic performance, which is of growing significance, especially in times of increasingly tighter budgets. Invest in maximum product safety!
A NEW GENERATION – Intelligence meets efficiency
The new generation of Stratos spreaders is based on many years of worldwide experience and takes any spreading operation to an entirely new level. Owing to their innovative, modular design, the spreaders can be adapted to your individual applications and permit maximum flexibility in resource planning. The intuitive handling and the convincing performance of the new product line makes your work even more intelligent and efficient.
Modular design for individual requirements
The modular design of our spreaders permits individual configurations that are accurately tailored to your tasks and operating conditions. The combination of hopper, conveyor belt or auger system, pre-wet equipment, various distribution systems, drive options, demount systems and control systems offers maximum flexibility.
Long service life at low costs
Whether durable stainless steel or high-quality polyethylene: Our new spreaders employ exclusively high-quality materials. This provides protection for a long service life while reducing maintenance costs. In order to additionally increase their durability, all steel and stainless steel spreaders are blasted and powder-coated.
Environmentally friendly and sustainable
Wherever possible, we use components made of recycled materials. Correspondingly, the polyethylene and metal components of the spreaders can be recycled as well. A sophisticated filter system in the powder-coating plant ensures that residual powder can also be recycled – thus being easy on the environment and your budget. The Stratos's outstanding spreading technology also makes it environmentally friendly and economic to use.