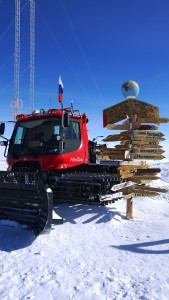 Over 135 PistenBully 300 Polar Antarctic Version are spread throughout the Antactica stations of Germany, India, USA, Italy, China, Japan, Turkey, New Zealand, Korea, France, Chile, Argentina, Russia, Austria, Denmark and the United Kingdom.
The Antarctic Institute informed that after a comprehensive OJEU (Official Journal of the European Union) exercise in 2010 to procure two prime mover tractors to support its project tractor train, the Pisten Bully was selected as the preferred vehicle. The vehicle offers power, good build quality, high load pulling capability, better grip (wide track cleats), and good value for money. Unlike it competitors this model has been specifically developed for Antarctic use; is not a unit that has been adapted for polar operations. The market for these vehicles has not changed since that exercise.
Our PB 300 POLAR ANTARTIC VERSION is specially designed. Clients file their orders in April-May of every year with the objective of having the machine ready for Antarctica for the period November-March (2015-2016).
Kässbohrer manufacturers this equipment exclusively for Antarctica with the clear objective of providing the maximum safety possible to scientists that will be exploring in the most extreme place on Earth.