Smith assumes leadership of enterprise-wide product, technology, R&D, corporate development and strategy, digital media division, content and the AccuWeather® Network.
AccuWeather Founder, CEO and Chairman Dr. Joel N. Myers is pleased to announce the promotion of Steven R. Smith to the position of President, effective June 14, 2019.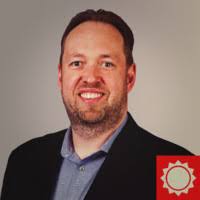 Smith, who most recently served as President of AccuWeather's Digital Media division, will expand his purview to encompass companywide products, technology, research and development, corporate development and strategy. Smith will continue to lead the media portfolio encompassing AccuWeather's consumer web and app properties as well as the 24/7 AccuWeather Network. He remains a member of the Board of Directors for both AccuWeather and its exclusive joint venture with the Chinese Meteorological Agency, AccuWeather Huafeng Media Group.
Dr. Myers said, "There is no one better suited for this role than Steven Smith. Over the past 12 years, Steven has been by my side leading the transformation of AccuWeather. He has been instrumental in our company's growth, and his appointment as President reflects my confidence that his leadership will continue to drive AccuWeather forward for many years to come."
Smith has an impressive background in weather and technology beginning from when he started working full-time at AccuWeather in 1999 as a staff meteorologist, providing real-time weather consultation for clients in the media and commercial sectors.
After holding a variety of positions that contributed to AccuWeather's research ,development and innovations , global weather data acquisition and management, as well as corporate IT, Smith was promoted to Chief Information Officer in 2007, followed by a promotion to Chief Digital Officer in 2013, and he was then named President, Digital Media in 2015, a position he has held until the present.
Born in Philadelphia, Smith earned a B.S. in meteorology from The Pennsylvania State University in 1999. In 2004, he completed Penn State's immersive Executive Management Program to help executives think strategically and globally. He is currently participating in Yale's Global Executive Leadership Program, an exclusive program aimed at continuing to enhance skills for executives who operate at the highest levels of global leadership.
Smith is married to Stacy Miskell. They and their 4 children reside in State College, Pennsylvania.