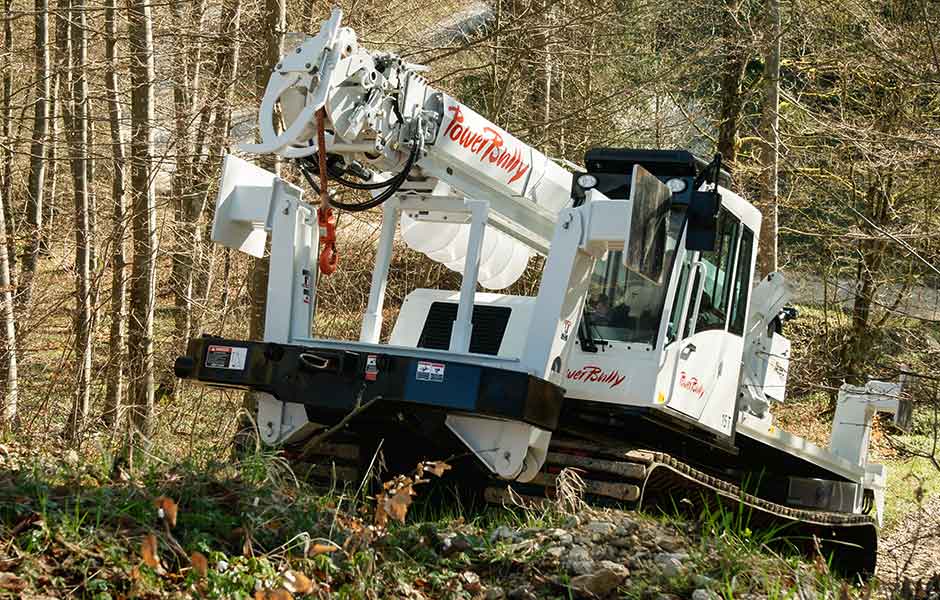 With payload capacities of 16,6 tons, the rugged PowerBully 18T has the low ground pressure platform you need from a tracked carrier. Our focus on safety, engineering and minimal environmental impact ensures PowerBully is the right tool to get your job done.
The name Kässbohrer is known around the world for leading edge quality, customer service and quick response.
With industry leading parts inventory availability, and access to overnight shipping, we are here to ensure your equipment is always ready to deploy.
Flexibility for your application
PowerBully offers the perfect mobile base for digger derricks, cranes, man lifts, knuckle booms, backhoes and many more. With a payload of 16,6 tons, the PowerBully 18T is built individually according to customer requirements. If you have a specific challenge that requires the mounting and application of specialized equipment, please call our technical support team. We are ready to assist you with your needs.
Off-road abilities
Our light footprint ensures you have the right vehicle to access those hard to reach locations, even in the most demanding of weather conditions.
Countless possible uses
PowerBully are low ground pressure track carriers with the best plattform for the construction and maintenance of pipelines, power and telephone lines, fire control and many more.
Various track options (X-Track, D Dent, Flat) for all terrain conditions plus different steering controls provide flexibility in your application.
Electric Utility & Power Transmission
Wind Power
Telecommunication
Oil & Gas
Construction
Mining
Drilling
Forestry
Emergency measures
Civil protection