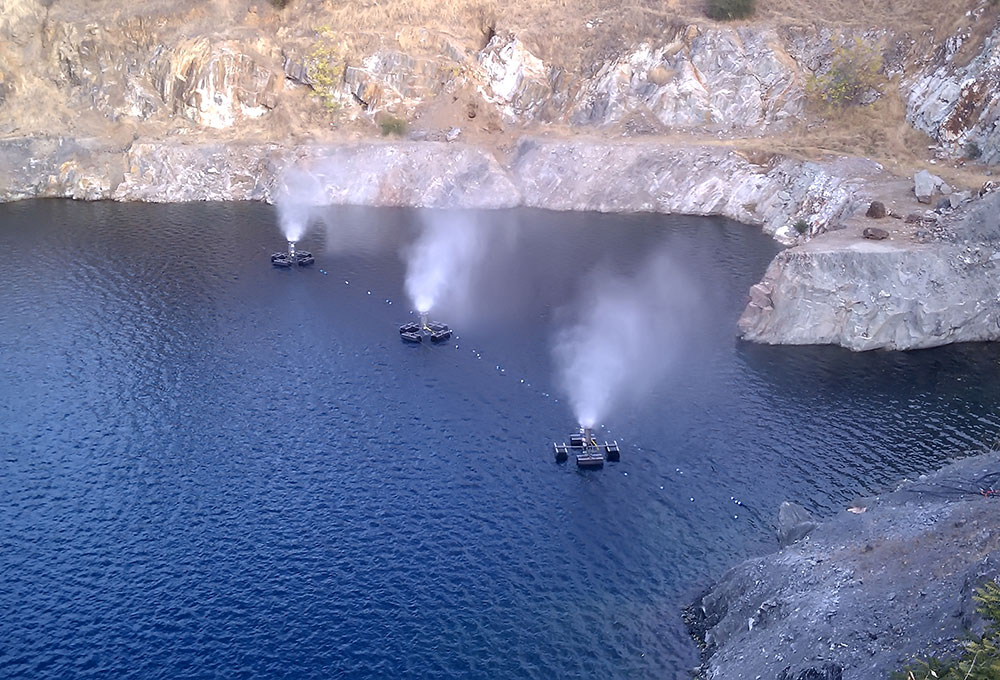 The SMI® 420F Evaporator has the following features:
Floating unit supported by close celled foam containing plastic pontoons
Low plume height for shorter drift distance of droplets and to allow longer operation in swirling or constantly changing winds
Heavy industrial construction for durability and long life including stainless control panel, motor enclosure, manifold and fan blade
Vibration sensor to shut down motor before catastrophic failure due to residue or ice buildup 200 feet (60 meters) continuous chord (with no splicing needed)
7.5 HP stainless steel submersible pump supplying 80 gpm at 100 psi
The SMI® 420F Evaporator provides many advantages vs. competitive products.
Little Buildup: the SMI® 420F Evaporator is designed with minimal amount of top surface area for residue or ice to build upon. Little clean up or maintenance required!
High Performance: High speed fan blade rotation (3600 rpm) that creates an optimum water droplet distribution for evaporation. Average annual evaporation rates up to 70% have been achieved with average rates typically between 25 and 60%, depending upon many factors such as ambient temperature, relative humidity, water make up and wind conditions. In general, the warmer and drier the conditions, the higher the evaporation rates achieved.
Easy Maintenance: The machine is designed for easy cleaning and maintenance. The unit requires no weekly greasing of bearings.
Large Orifice Size: The SMI® 420F Evaporator can pass particles up to 3/16″ (5 mm) in diameter. This eliminates the need for pre-filtering, filter cleaning and the hassles of clogged nozzles.
Extreme Duty: The S M I 420F Evaporator design has evolved from 20 years experience in industrial and extreme outdoor applications. The polyethylene plastic pontoons are filled with close celled polyurethane foam, ensuring buoyancy even after any accidental puncturing that may occur of the plastic outer shell. Critical components are constructed of stainless steel for extended life in harsh environmental conditions.
Options: For acidic or high alkaline water applications, SMI® offers an upgraded version with the platform composed of stainless steel construction. The fan can be ordered with a special scale resistant coating to reduce build up on the blades from use over time. Longer electrical chord available without splices (just inform us at time of order).