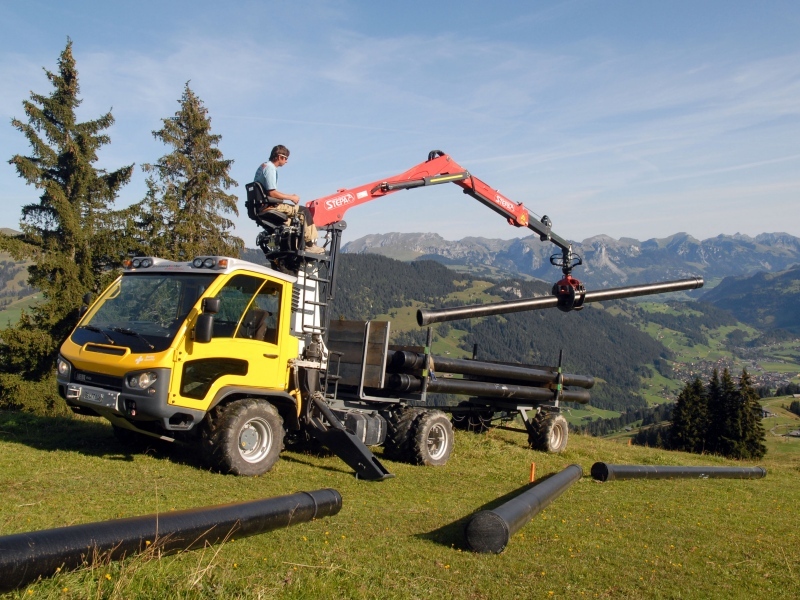 The Aebi VT450 Vario Euro 6 is the high-end model of the top class. Aebi offers this flexible transporter for municipal services. In practice, the stepless mechanical-hydrostatic, power-split drive brings obvious benefits. Work requiring low speeds is possible without any additional investment. Thanks to the multifunction drive lever, the change from forward to reverse driving is ultra-smooth. With the ECO-Drive and high gear efficiency, the transporter can be operated very economically.
The new stepless drive with mechanical-hydrostatic power split is composed of a compact hydrostat unit with variable pump and constant-displacement engine, and a mechanical transmission with three gear ratios. In practice, the combination of hydrostat and mechanical components guarantees high traction and good efficiency thanks to dry-sump lubrication and power split. The power flow with these new stepless transmissions is never interrupted (no drive clutch). With the purely hydrostatic drive at low speeds, it is even possible to smoothly start and reverse the vehicle on sloped and difficult terrain, ensuring a constantly high level of safety. Moreover, the maximum driving range can be limited via a rotary switch.
Depending on the vehicle's registration, four different speed versions are available: 0–30 km/h, 0–40 km/h, 0–45 km/h and 0–50 km/h.
With a suspension travel of 100 mm, the hydropneumatic single-wheel suspension according to the double transverse link principle ensures excellent driving comfort. During hard cornering, the rear axle is automatically stabilised. In addition, the hydraulic torsion blocking between the front and rear vehicle ensures outstanding off-road capability. The suspension can be blocked or switched off and the vehicle can be manually lifted or lowered.
Flexibly mounted driver's cab, modern and ergonomically designed cockpit allowing easy and logical operation. Multifunction drive lever with two round switches. Membrane keyboard for activating further functions at the touch of a button. Plastic roof with integrated working headlights and winter maintenance lighting. Heating and defroster system. Available with air-conditioning system as an option.
The VM turbo diesel delivers impressive 80 kW (109 HP), has a torque of 420 Nm at 1400 rpm and a torque rise of 43%. In practice, these key data guarantee a lot of power. In addition, the engine meets Euro 6 and operates in a very environmentally sound manner thanks to a diesel particulate filter, exhaust gas recirculation and AdBlue is used for the exhaust aftertreatment.
The ergonomically formed, multi-functional, colourcoded accelerator lever allows simple and logical control of the most important functions. This also offers command and the simultaneous control of a device function come from one source. The colour display now has a control knob and several control keys via which further functions can be controlled. The menu structure is plainly designed for quick, logical and simple control. The high-resolution colour display shows the chosen function displays and data clearly and in high quality. Also available as an option is an additional control knob right beside the driver's seat for controlling the display.