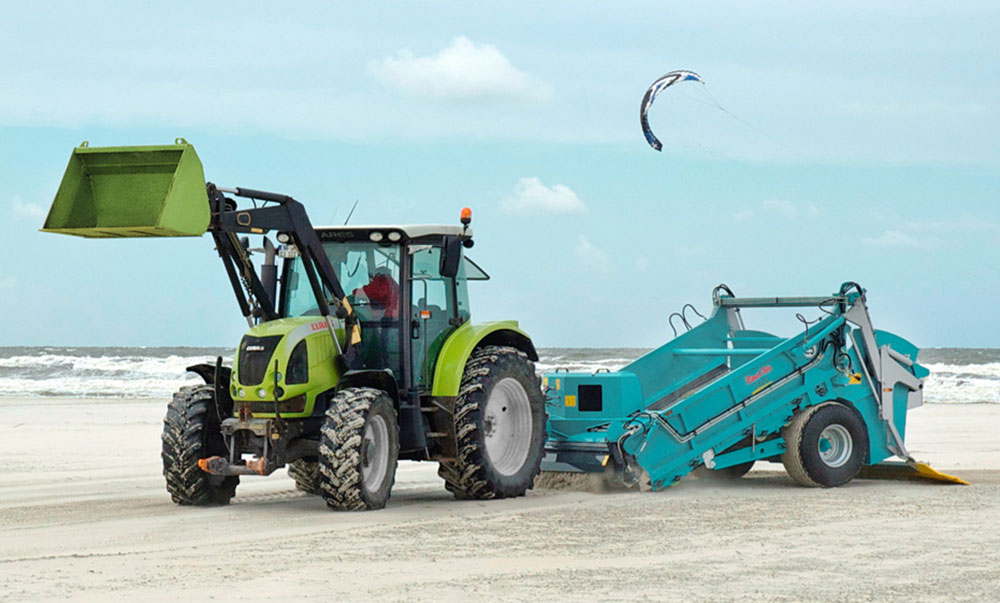 The BeachTech 2800 is our answer to the demands of many municipalities for a beach cleaner that is able to clean very large beaches but is clearly smaller in its dimensions than the BeachTech 3000.
Concept
Therefore our designers incorporated the 2,500 mm working width of the BeachTech 3000 – which can clean up to 30,000 square meters per hour – with the technical concept, the maneuverability and the smaller dimensions of the BeachTech 2000.
Equipment
The BeachTech 2800 is equipped with the following standard features that used to be available only as options for the other models: The tension roller for the screening mesh insures that the screening belt will not sag and therefore there is no loss of cleaning efficiency. The pick-up roller is manually adjustable in height and can be locked into two different positions. This allows for the pickup of larger pieces of garbage – for example when the beach is cleaned for the first time in the season. This also results in less wear and tear of the tines. More standard features in the BeachTech 2800 are the 520 mm extra wide tires, the pick-up blade which is adjustable in width, the side panels with mudguards and service flaps, the reverse valve for changing the direction of the screening belt, the low-service spline-mounted pump for an extremely tight turning radius, and the polyethylene finisher with hydraulic lifting mechanism for more driving comfort. More torque for the pick-up and screening belt motors results in 20% more power and an even better screening through the 6 square meters of screening mesh.
Options
hydraulically adjustable wheels for continuous depth control of the pick-up and screening unit
3/2-way valve (if there is only 1 external hydraulic circuit on the tractor)
hydraulic valve for the speed adjustment of the pick-up roller
central lubrication kit
Economical
The combination of a large working width, smaller dimensions and a lower weight also results in considerably lower fuel consumption of the tractor. Since we used extremely durable materials, the BeachTech 2800 will need very little servicing.