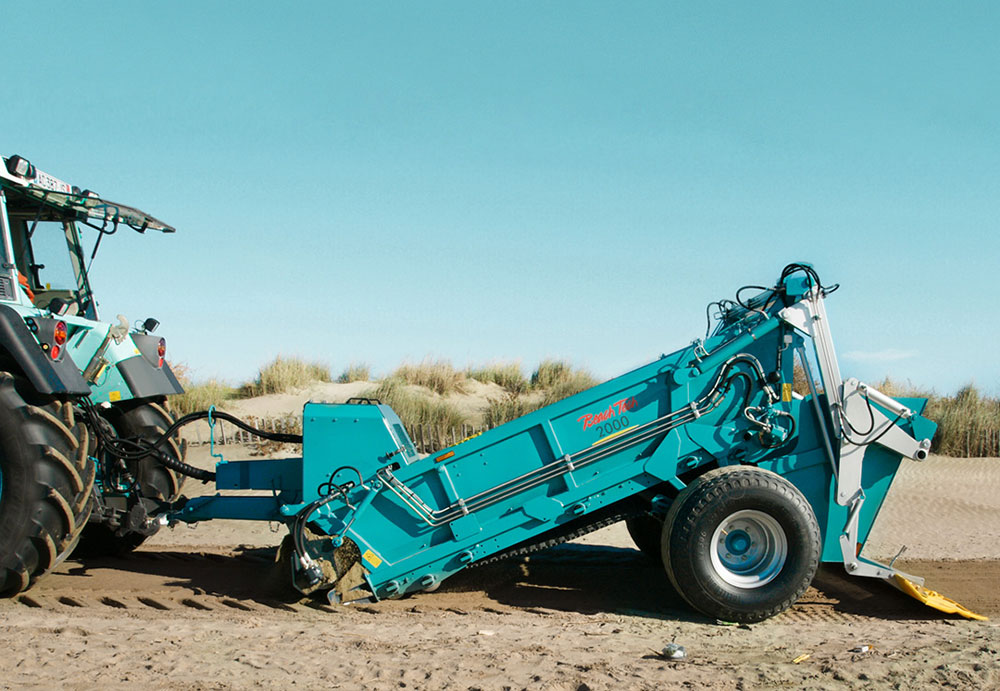 A jack of all trades
Maneuverable and compact, our smaller BeachTech model 2000 is especially suitable for the maintenance of medium-size sections of beach and inaccessible areas, such as for example between sunshades or deck chairs. Although smaller than the BeachTech 3000, this beach-cleaning vehicle also uses the proven, patented combination of raking, screening and mixed techniques. This ensures efficient, economic beach maintenance and satisfies guests' requirements in a first-class fashion.
The large cleaning area of the BeachTech 2000 is immediately convincing. With an operating width of 1,800 mm it can cover up to 20,000 sq. meters an hour on a dry beach and 8,500 sq. meters an hour on a damp surface. As the cleaning techniques can be changed over or combined without interrupting the operation, the extent of the cleaned area is increased still further.
The capacity of the dumper body is a useful 1.5 cubic meters. With a discharge height of 2.55 meters, refuse can be emptied directly into a truck or trailer with a drop-side body.
Alternative operations are also possible with the BeachTech 2000 if the conventional pick-up roller is replaced by a brush for cleaning gravel and even grass areas. The beach-cleaning vehicle can thus also help to maintain parks, sports arenas and a lot more besides.
The robust overall design has been conceived for the demands made on the vehicle by the effects of salt water and high air moisture content. The thoroughly proven structural elements remain intact even when left standing for a long time. They are galvanized to inhibit corrosion and protected against weather effects.