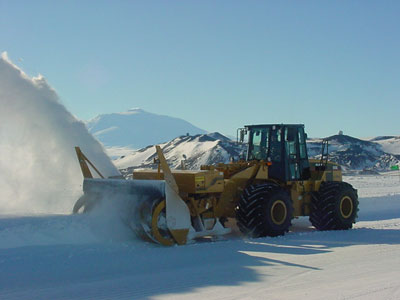 Kodiak Northwest offers the option of a hydrostatic loader mounted snow blower as well as a mechanical model. Suitable for mounting on the customers front-end loaders using quick-hitch, the Kodiak unit is a two-stage snow blower with infinitely variable and reversible hydrostatic drives.
The following size options are available
Horse Power Options from 180 hp to 600 hp
Reel (ribbon) Sizes from 30 inches to 56 inches
Impeller (fan) sizes from 30 inches to 56 inches
Clearing widths from 108 inches to 136 inches
Tonnage from 1500 ton/hour to 5000 ton/hour
Engine Options: Caterpillar, Detroit Diesel, John Deere o Cummins.
Hydrostatic System: Rexroth, Linde or Sauer-DanFoss (Sundstrand)
Kodiak can configure and manufacture the correct size of snow blower to fit your front-end loader and meet your tonnage requirement. All units are available with optional chutes of varied design.