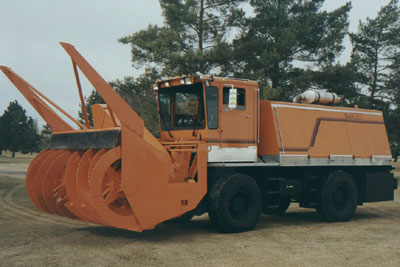 Kodiak Northwest's single engine snow blower mechanically powers the blower head through a reversing transmission and drives the chassis with a six speed power-shift hydrostatic transmission. The front discharge unit incorporates carrier drive load sensing with a head float option. A state-of-the-art digitally controlled steering system, offers front-wheel, rear-wheel only, crab & coordinate options all off the steering wheel or rear steer only off a joystick. All shifting can be accomplished while in motion and as a safety feature, all steering functions return to front wheel steer over fifteen mph automatically (25 kph).
The single engine model offers the following options:
Horsepower Options from 500 hp to 1200 hp
Reel (ribbon) sizes from 48 inches to 72 inches
Impeller (fan) sizes from 48 inches to 82 inches
Clearing widths from 108 inches to 136 inches
Tonnage from 3000 tons per hour to 10,000 tons per hour
Engine Choices: Caterpillar, John Deere, Detroit Diesel or Cummins
Transmissions: Funk, Eaton-Fuller, Allison
Hydrostatic Components: Rexroth, Linde or Sauer-Danfoss
Cab Size: Single man (60 inches) Two-man (72 inches)
Kodiak can manufacture the size of single engine machine to fit your size and tonnage requirement. All units are available with optional spot chutes. Kodiak is able to incorporate features particular to each customer to suit their specific needs.