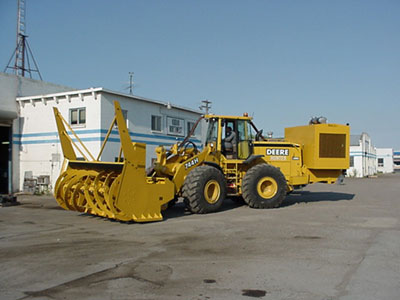 In the split-package configuration the engine is mounted on the rear of the loader. The weight is distributed more evenly. The blower head can be elevated and cut drifts up to seventeen feet deep. The snow blower is hydrostatically driven, reversible, two stage and infinitely variable.
The following configurations are available:
Horsepower Options from 180 hp to 525 hp
Reel (ribbon) sizes from 30 inches to 52 inches
Impeller (fan) sizes from 30 inches to 52 inches
Clearing widths from 106 inches to 136 inches
Engine Choices: Caterpillar, John Deere, Detroit Diesel or Cummins
Hydrostatic Components: Rexroth, Linde or Sauer-Danfoss
Kodiak can configure and manufacture the correct size of snow blower for your application and wheel loader. All units are available with optional chutes.