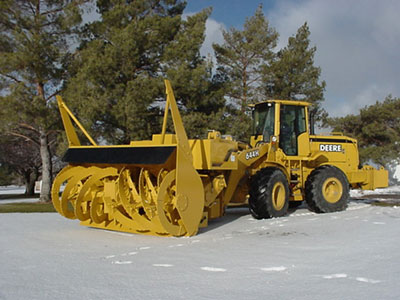 Kodiak Northwest has a wide spectrum of available Loader Mounted Self-Contained Mechanical Drive Snow Blowers. The mechanical drive system begins at the engine drive shaft, driving an air clutch (either 214 or 314) hence to a hyvo chain case with appropriate ratios, to a shear pin assembly then into a right-angle gear box with varied ratios driving the impeller and finally into a center drive gear box that drives the reels. (Refer to the major component sheet for visual illustration of mechanical drive system) All systems are shear pin protected with easy access locations.
The following configurations are available:
Horse Power Options from 150 hp to 600 Horsepower
Reel (ribbons) size from 30 inches to 56 inches
Impeller (fan) size from 30 inches to 52 inches
Clearing widths from 102 inches to 136 inches
Tonnage from 1500 tons per hour to 5500 tons per hour
Engine Choices: Caterpillar, John Deere, Detroit Diesel, Cummins
Shear Protection: Three shear pin locations
Kodiak can manufacture and configure the correct size snow blower for your loader and snow applications. All units are available with chutes of varied design.