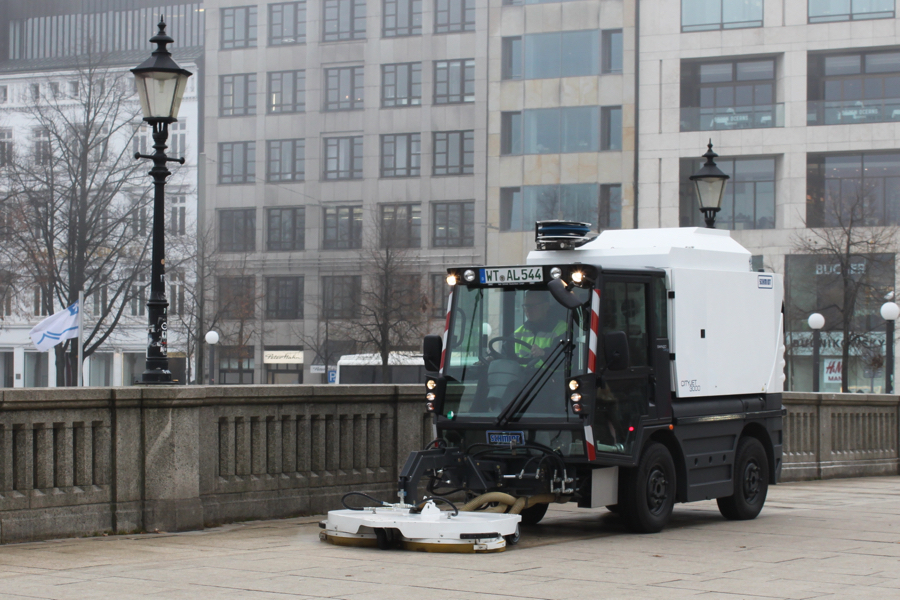 Street washers are used everywhere where there is repeatedly and frequently significant contamination – e.g. in market places or within industrial facilities. In very dusty conditions or for stubborn contaminants, our street washers, which operate purely using water power, are an important addition to a normal sweeper. It is mainly used in communal areas but in principle can be used anywhere.
Street washer City Jet 3000:
The City Jet 3000 offers the best prospect for the most varied of challenges in communal applications – the easy-to-operate machines work very efficiently and economically. Versions which clean primarily using cold water or hot water are available.
The water tank, made from aluminium has a water volume of 2,200 litres. In the basic version, a pump with 70 bar water pressure at a consumption of 130 l / min is used as standard. The optional telescopic spray bar allows for a cleaning width of up to 3,500 mm.
The City Jet 3000 "hot-water variant"
With a water pressure of up to 250 bars and hot water of up to 90 °C, the washing head of this machine works extremely effectively over an operating width of 1,200 mm, making it possible to remove the most stubborn dirt from a wide range of different surfaces. The optionally available wastewater suction unit permits the direct collection of wastewater in a separate tank. This also allows for the targeted removal of oil residues.
All machines provide high comfort in use and are environmentally friendly!
Thanks to their short wheelbase and the optional four-wheel-steering, these machines are extremely manoeuvrable. The extensive range of options, like f.e. the 360° rotatable roofmounted hose reel with high pressure water gun, ensures great flexibility. The glazed 2-man cabin provides all-round visibility and thus a high level of safety. The noise-proof and heated inner workings are characterized by many ergonomically designed details such as a height and tilt adjustable steering column, an orthopaedic driver's seat and easy-to-operate control units. All vehicles are powered by a smooth-running 4-cylinder diesel engine of the latest generation. Our EuroMot stage 3B, or alternatively stage Euro 6, diesel engines are characterized by minimum emission levels. The incorporated diesel tank holds 64 litres.