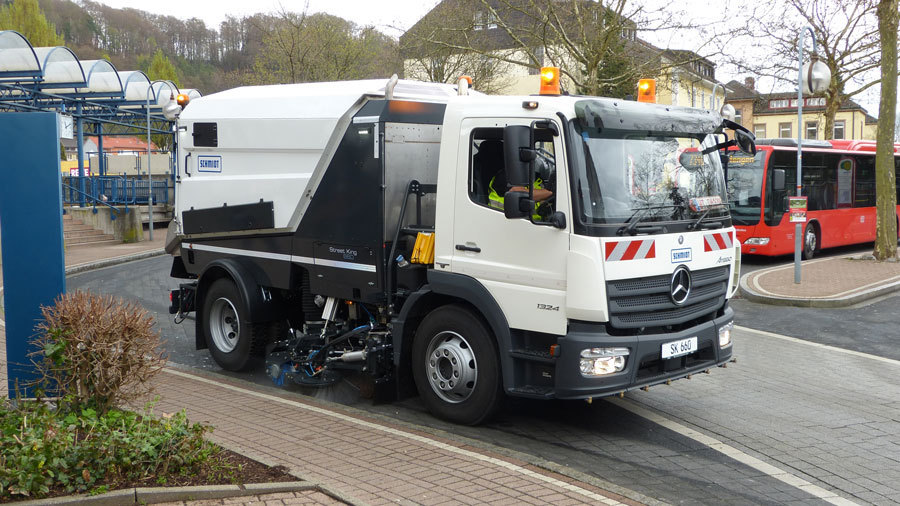 The new Schmidt Street King 660 stands out with enhanced performance, maximum efficiency and an innovative operating concept. The modular concept makes it possible to satisfy individual wishes of customers as regards the carrier vehicle. The encapsulated engine compartment reduces the noise level while also being easy to maintain and repair. The Street King 660 deserves the title of being "quiet and environmentally friendly" for a reason. Since its harmful particulate matter emission level is well below the required maximum level, it received the 3-star PM10 label. Owing to the adjustable brush ground pressure and brush speed, brush wear is reduced to a minimum. The core component is the high-performance suction fan – powered hydraulically and operated from the driver's cab. The flow-optimised suction fan is fitted directly on the hopper and the suction nozzle with integrated brush roller permits high suction performance even at low fan speed – with the operating speed being up to 15% higher compared to other models.
Optimised sweeping unit
Customers can expect reliable sweeping results at higher operating speed, which also means covering longer sweeping distances within shorter periods of time. The sweeping width is 2,350 mm, which can optionally be extended to up to 3,500 mm in the dual version. The towed sweeping unit offers maximum brake-back protection and optimum coverage even when cornering. The flow-optimised arrangement of the suction fan permits maximum suction performance despite lower air resistance, which is why less drive power is required. In addition, the suction fan is powered hydraulically and is nearly continuously adjustable. The air flow rate is 18,000 m3/h (free flow).
Hopper with added value
The Street King 660 offers a hopper capacity of 7 m3. The hopper can be tilted by up to 60° and additionally incorporates handy tool boxes. The water tanks have been improved and are now made of stainless steel in both the front and rear area. The tank capacity in the standard version is 1,600 l and can be optionally extended. A new, hydraulically operated water pump with a flow rate of 48 l/min ensures optimum capture of dust particles. Electric water volume regulation permitting stepwise adjustment via touch control on the control panel is available as an option.
Innovation inside – Evolution Smart operating concept
Based on the Schmidt ES control panel, which is already employed in Stratos spreaders, an operating concept has been developed for the truck-mounted sweeper that is unequalled worldwide. The operating concept developed by Schmidt combines the company's expertise in sweeping technology with the high requirements of customers, the goal being to provide the driver with the best possible support by making his work easier.