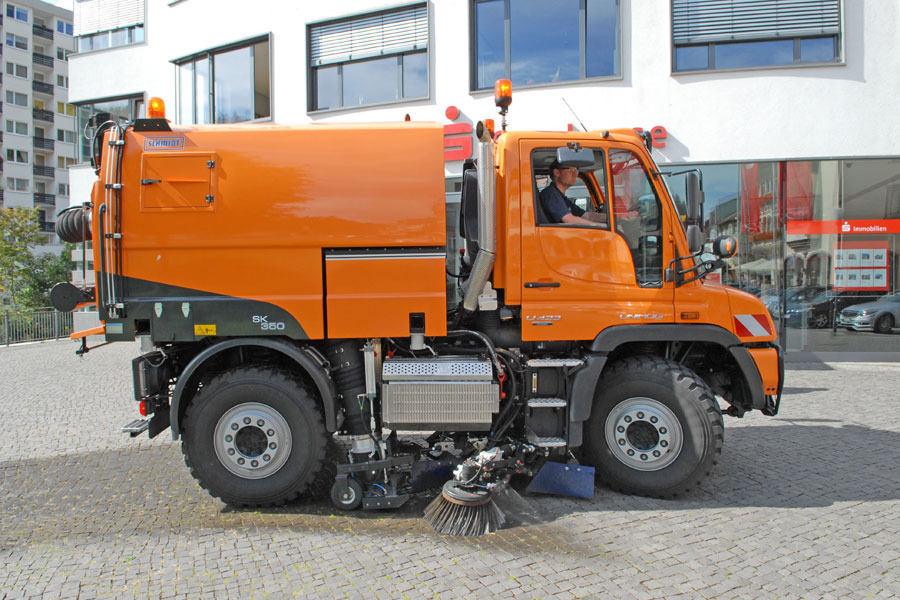 The mounted sweepers of the SK series from Schmidt designed for Unimog trucks have been developed for sweeping applications on city, district and country roads. Depending on the version, the mounted sweepers can collect debris on one side or on both sides.
Design and technology
The Schmidt SK series are equipped with a quick-change system designed for mounting on Unimog trucks. The mounted sweeper is carried and secured by the standard spider frame via the spherical joints of the carrier vehicle. This technical quick-change device permits rapid mounting and demounting of the sweeper.
All mounted sweepers of the Schmidt SK series consist of three main components: the hopper, the side-fitted sweeping unit and the feeder brush. For assembly, the hopper is placed onto the support frame, the feeder brush and the sweeping unit are slipped between the axles and subsequently attached to the vehicle. The patented V-shaped suction inlet is integrated in the SK370 and the SK502. The SK350 and the SK501 feature an extremely compact suction inlet, which is perfectly adapted to the short wheelbase of Unimog trucks. The trailing sweeping unit ensures excellent adaptation to the road surface and provides for effective break-back protection.
The pneumatic, electric, hydraulic and water supply lines are disconnected via quick-fit couplings to enable quick exchange of attachments. The suction fan of the SK series is installed horizontally and connected to the hopper in a flow-optimized manner. The short distance between the suction fan and the hopper facilitates the function of the suction fan, which allows for excellent suction performance even at low fan speeds. This protects the driver and the environment from noise pollution and reduces the fuel consumption.
In application
The channel brush moves the debris from the roadside directly to the suction inlet for collection.
The broad feeder brush underneath the vehicle extends the sweeping width to 2,200 mm (SK 350 and SK 501) or 2,300 mm (SK 370 and SK 502). Dust-free sweeping is ensured by spray nozzles, which are supplied by a pneumatically operated water pump (absolute dry run protection) on all sweeping units. The water tank is made of glassfibre reinforced plastic (GFRP) and has a capacity of 1,000 l.
The Schmidt SK 350, designed for the Unimog U 400 K, has a hopper capacity of 3.5 m³, collecting the dirt on the right side. The SK 370 is compatible with the long wheelbase of U 400 L and features a hopper capacity of 5 m³. The SK 501 and the SK 502 designed for the long and short wheelbase of the U 500 have a hopper capacity of 3.5 m³ and 5 m³, respectively.
The Schmidt SK 502 can optionally be equipped with a dual dirt collection system. A multitude of options are available for special sweeping applications or customer specifications. All sweepers of the SK series are PM 10-certified.