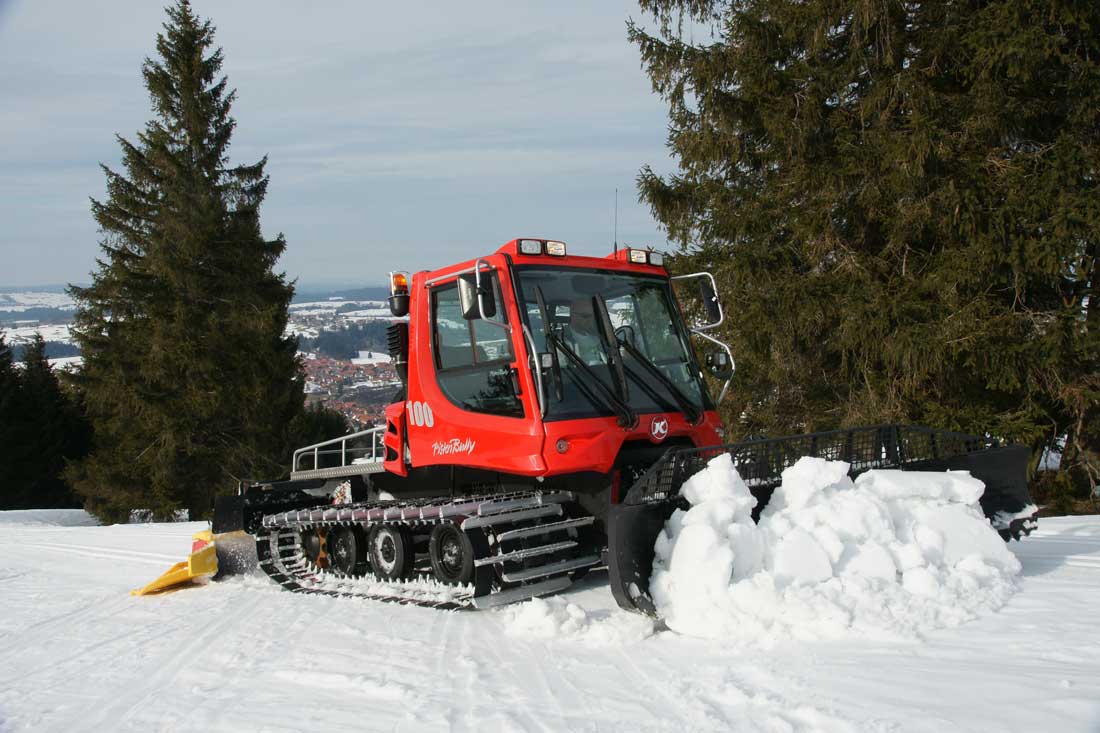 Tier 4i Engine Environmentally Friendly
Thanks to the introduction of the SCR technology, the PistenBully 100 SCR produces 90 % fewer emissions. The reduction in nitrogen emissions and fine dust particles is effected in a downstream SCR catalytic converter.
More power at lower rpm
The full 150 kW of power now makes itself felt much earlier. The engine is more responsive at a lower speed and this also helps with improved steering and drive behavior.
Improved climbing ability. Thanks to 4th running axle.
An fourth running axle now offers greater track contact surface. This has improved grip and climbing ability. The improved smoothness and weight distribution also tangibly increases ride comfort and drive performance.
All-way-blade high flexibility
The All-Way-Blade provides the greatest flexibility (2.7 m or 3.1 m wide). Optimised, sensitive blade steering and ergonomic controls facilitate precise and yet relaxed work.
Variability and fast accessory changing
The one-person quick-change system makes it easy to change the front attachments, such as a front-snow blower.
Excellent cutting teeth tiller in 3 different widths
We offer the snow tiller in three different working widths. It is ideal for all tasks – for grooming small slopes, lift tracks, hiking trails, in snow domes, but especially for cross-country tracks.
Extensive selection track setters for every scenario
The PistenBully 100 SCR proves its particular strength and flexibility in perfect track setting for cross-country tracks in the competition and leisure sector – whether this be for classic cross-country tracks or skating…
At home in snow domes quiet and low-emission
The PistenBully 100 Indoor is the ideal vehicle for use in snow domes: The engine is quiet and also low-emission thanks to its integrated emission control and a soot filter.