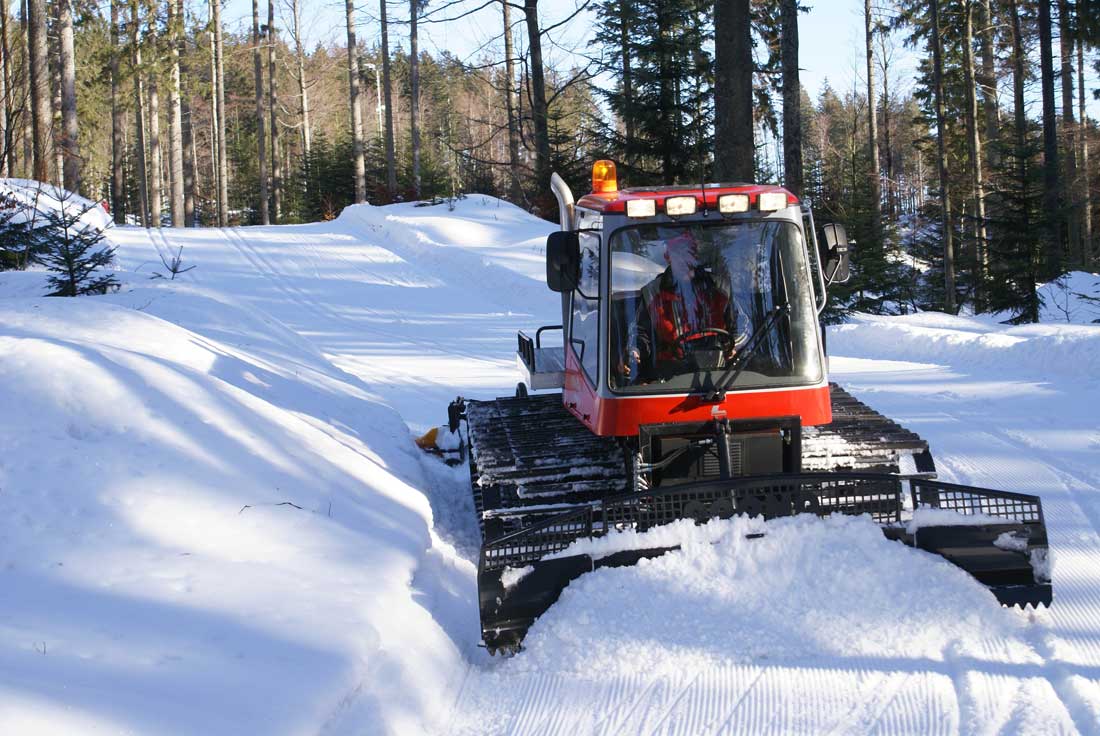 Setting the standard for perfectly prepared cross-country trails.
The PistenBully Paana – available in three different widths – makes light work of preparing all types of snow, from new snow right through to ice covered surfaces. The two-stage tiller system allows cross-country ski-trails, conforming to FIS standards, to be prepared in a single run. The tracks have been specially designed for cross-country ski-trails and can be used to prepare even the thinnest of snow coverings.
Powerful drive system.
115 hp, 2,000 rpm. The powerful Cummins 4 cylinder in-line engine with turboloader is dependable in every situation. The cruise control switch which is integrated into the steering wheel ensures that the driver can operate the machine in absolute comfort during long trails, ensuring a consistent and even preparation. The hydrostatic drive for the tiller via a Rexroth 10VG45 pump ensures flexibility during terrain work. The tiller shaft drive is infinitely variable.
Amazing hydraulics.
The down-pressure for the tiller and the track-setting pans can be regulated separately and the tiller depth setting can be adjusted hydraulically. The tiller can be operated in floating position and with down-pressure. The side-positioned rear attachment carrier with floating position is swivel-mounted.
Wear-resistant chassis.
The open profile track cleats (G-style profiles) of the PistenBully Paana are made from hardened steel, helping to ensure high levels of wear resistance. The PistenBully Paana is capable of very gentle operation and can even prepare trails on very light coverings of snow. For particularly sensitive areas as well as for thin layers of snow, low-profile vehicle tracks with a profile height of 62 mm are also available as an alternative to the standard tracks which have a track cleat height of 72 mm.
Comfortable driver's cab.
The driver has unimpeded sight in all directions thanks to the windows which extend a long way downwards and to the centrally positioned driver's seat. The large sunroof, an extremely effective heating system, ergonomically designed easily accessible controls, not to mention the air suspended heated driver's seat, all combine to make day-to-day operation as comfortable and as straight forward as possible. So far as safety is concerned, the driver's cab conforms to the high requirements of the ROPS certification standard and is very quiet.