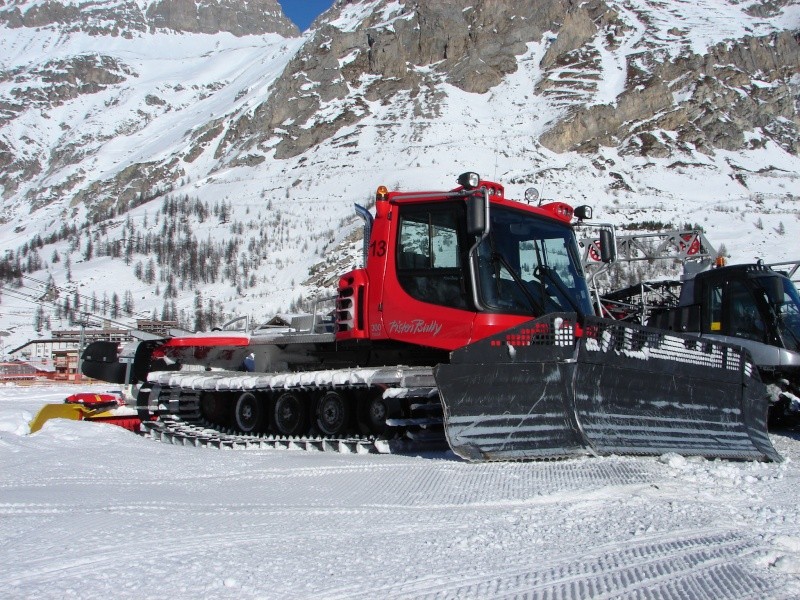 The new standard for performance ahead of the field with brawn and brains…
PistenBully 300 Polar, a professional through and through. With the right feel for gentle machine-made snow processing, for the precise preparation of even extreme terrain and with the expertise for truly efficient snow management. The new PistenBully 300 Polar combines intelligence and strength in a whole new way: with its computer-controlled tiller, its efficient on-board computer, greater thrust and a 430hp Mercedes-Benz engine. This one is a powerhouse. One guaranteed to think with you. And one that is also available equipped with a winch for use on steep terrain.
For perfect contours without a second thought.
Intelligent SNOWtronic tiller control makes it possible to form contours and shapes far more precisely than ever before. SNOWtronic automatically adjusts the tiller to the slope and to snow conditions – according to the program chosen by you. No need to plow through moguls, now you can build them up, keep them as they are or smooth their contours, precisely and exactly. The choice is yours – and your eyes are free to look where you're going.
Everything on screen.
The on-board computer's display shows you all the essential information you need to operate your vehicle, the new tiller control as well as the winch. If you like, the camera at the rear can even show you what you've just done – for careful consideration of slope quality. Plus, where is even more safety when bucking up!
Moving mountains of snow?
No problem, thanks to the significantly improved thrust – plus a 20% larger front blade. Now you can move up to 40% more snow with the new PistenBully 300 Polar and prepare slopes in just one go. It is economic, efficient and always gentle on the snow and the landscape.
Power in reserve at all times.
Thanks to the new 315 kW (430hp) Mercedes-Benz engine, you'll have a bit more to give in any situation, for example when it comes time to spread that enormous pile of manmade snow across the ski slope. Or when the air starts to get thin and you're closing high altitude crevasses. Even then, the PistenBully 300 Polar will still have something left up its sleeve.
Developed for high performance.
The frame, chassis and drive system are particularly sturdy giving you an extremely cold-proof, reinforced mains frame with a more robust chassis and a new hydrostation drive system.
Multifunctional for personnel transport.
The transport railing has been redesigned for the PistenBully 300 Polar. Both to secure loads – a function you already know – and for much more as well. Just fold the rail upwards. Now you can load up the PistenBully 300 Polar even higher and take DIN 30770 and ÖNORM 9850 trained personnel along with you. They can sit down in the seats built into the engine cover.
As bright as day – even at nighttime.
Six new xenon headlights (standard equipment) illuminate the front work area as if it were daylight. The area lit is almost as large as a soccer field. At the rear, two backup lights integrated into the engine cover guarantee optimal tiller illumination.
Burn rubber!
The PistenBully 300 Polar's idler wheels (standard equipment) are made of solid rubber. This makes pumping tires and checking air pressure things of the past – once and for all. Assembled using a new welding method that combats rim tension means increased life expectancy and improved side billing. A look at the new drive sprockets reveals the fine engineering that has gone to.
Number 1 – including a winch version.
With all the features that make the PistenBully with winch such a great performer: 1,050 meters of cable, 40 kN of pull and 360° rotation. Plus our new innovation: the rope failure detector (RFD), which reports strand breakages. Two sprung hold-downs trigger the signal for strand breakage, and also ensure accurate cable guidance into the capstan sheaves. Maintenance intervals are now twice as long thanks to the many improvements in the winch gearing.
The hydraulic turntable drive.
Simple, fast and efficient: The winch can be fully rotated hydraulically at 1.5 rpm. Approach the attachment point, bring the winch into position, get out and hook on. Climb back in, tension the cable, release the brakes and drive away.