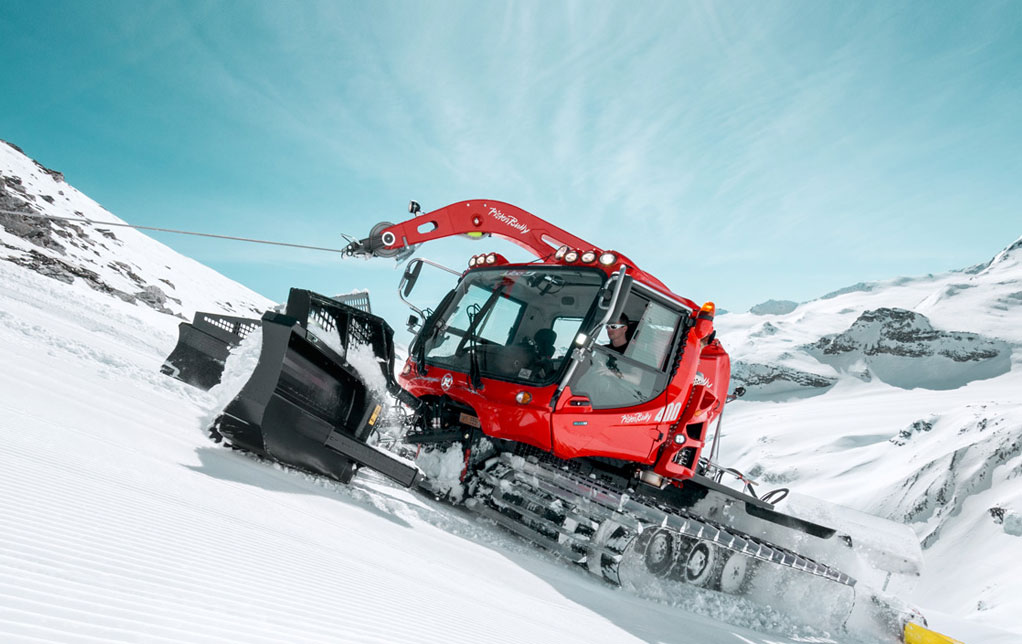 The ideal mix power, weight and size
Thanks to its maneuverability, it is adept for precise grooming work. Its high-performance suspension gives it excellent climbing ability without compromising on ride comfort and quietness.
PistenBully – a driver's friend you have the choice
Steering wheel or sticks: either way, the PistenBully 400 4F guarantees user-friendliness. Bright headlights, heated front wind shield wipers, windows and mirrors and a sound-proofed cab make the work much easier.
Solid partner durable and reliable
All high-quality components – the chassis, tracks, suspension, drive, hydraulics, electronics and cab – work together as a perfectly coordinated system. You never have to worry about operating and maintenance costs.
Maximum stability and maximum thrust
The forces are evenly distributed across the whole vehicle frame during dozing work. This has a positive effect, resulting in a stable drive and outstanding pushing performance.
High flexibility and ideal roll behavior
For the perfect job on the slopes: the large All-Way-Blade ensures the highest flexibility and the optimized joy stick gives the operator precise control and stress-free working.
Also at home indoor quiet and low-emission
The PistenBully 400 4F is the ideal vehicle for use in snow domes: the engine is quiet and also low-emission thanks to its integrated emission control.
Perfect snow quality, outstanding performance
The AlpineFlexTiller impresses in the toughest conditions. The tiller shafts prepare the snow and ensure the best slope quality. The finished surface meets the highest technical standards.
Changing snow conditions individually and quickly
Well-thought-out modifications to the tiller guarantee outstanding snow grooming. All setting options can be stored and recalled at any time using the memory function.