CAB 5 pers./750KG to CAB 20 pers./1,600 KG
The personnel cab is constructed of an extremely robust steel rib structure with GRP components. The ROPS-certificate provides uncompromising protection for all passengers.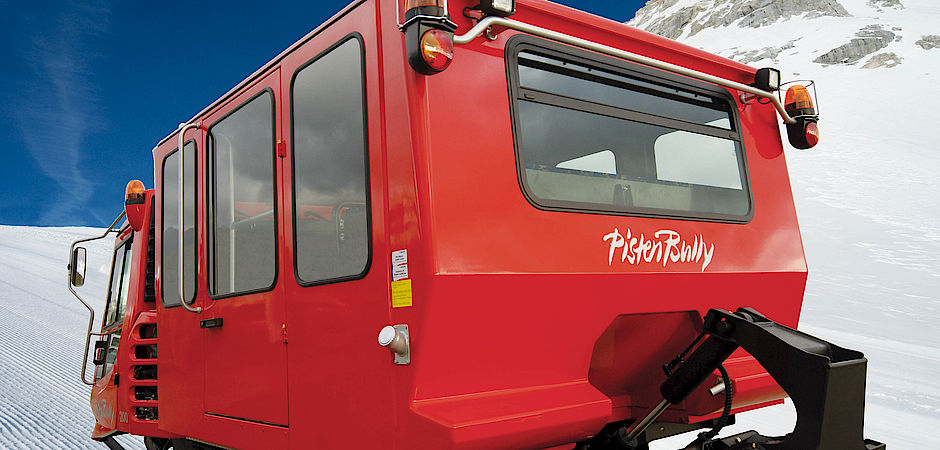 The cab is fitted out in the interior with a soundproofing, heat-insulating, and extremely hard-wearing non-woven fleece material.
Entry is via the driver's side by means of a set of steps which can be drawn out over the tracks and an access ladder. A bar handle is secured to the inside of the door, which serves as an aid to climbing up when the cab door is open.
The cab is fitted out with fold-up bench seats, facing forwards respectively in relation to the direction of travel. Automatic seat belts and holding bars provide for the passengers' safety.
The cab lighting reacts by means of door contact switches.A diesel heating system provides for the heating of the cab, supplied from a separate fuel tank. The windows in the front and rear of the cab can be pivoted to provide ventilation.

Inside the cab are an emergency hammer and a fire extinguisher, while a hinged window is integrated into the roof, which at the same time serves as an emergency exit. Contact between the driver and occupants is maintained by means of a intercom.
The personnel cab can be mounted and removed again with little effort, leaving the loading surface once again fully available.
VIP CAB
When furnishing passenger cabins we also fulfil luxurious customer requests – in this case tinted panes, a high-quality sound system including high-tech monitor and most comfortable seats for the ultimate audio experience on the mountain.
SKIBOX
Ski equipment safely stowed away
The Skibox has enough room for 20 pairs of skis. The Akia can also be stored in this box when it is no longer needed. Thanks to the skibox, the cabin will not be damaged and the equipment cannot be lost. The Skibox is very easy to fit. Only 2 manifolds need to be inserted into the underframe of the passenger cab on the left and secured with one screw each.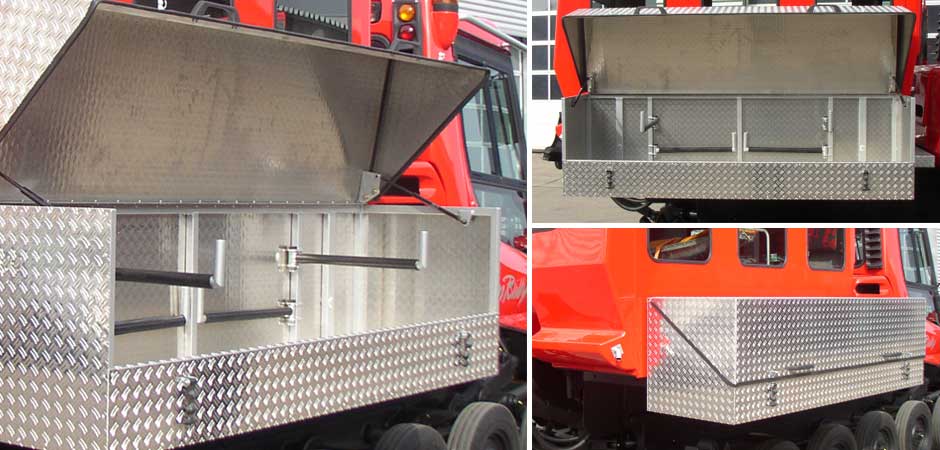 Design
This Skibox is made from aluminium plate. The Skibox is equipped with four stanchions so that the skis and snowboards can be safely stowed away. These can also be folded away if needed. There are two handles, so it is easy to open.