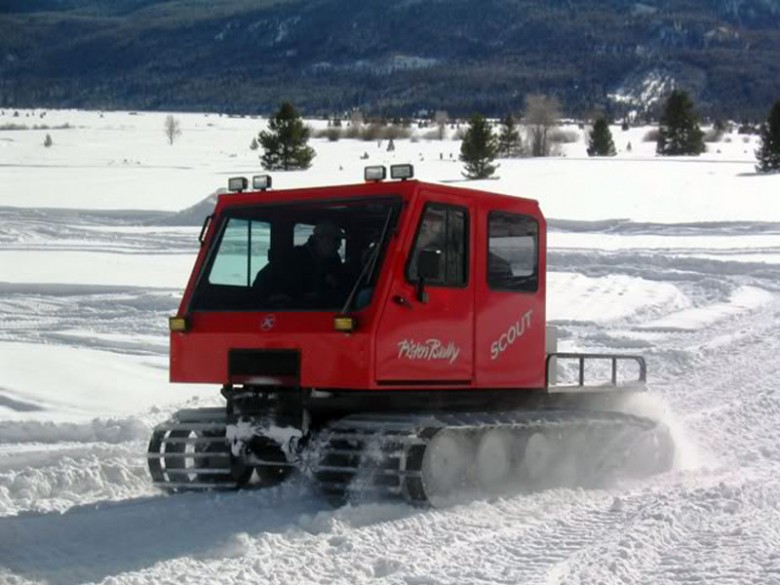 The PistenBully Scout is a small, agile bundle of power. Its most distinctive features are cost effectiveness and flexibility.
Whether in sludge, on marshland, in snow or on ice, the PistenBully Scout will always get you wherever you need to be.
Alongside the driver, it offers plenty of space for another four people in its spacious, comfortable and safe cab. Tools and materials can also be stowed away on its large platform at the rear. The PistenBully Scout can cope with very heavy loads, carrying up to 750 kg (1,650 lb.) with ease. Its large track footprint also makes the PistenBully Scout an excellent climber.
This easy-to-operate, low-maintenance machine is ideal for hut wardens and mountain service operations. Off-slope skiers and snowboarders welcome the ride to their remote runs.
For research centers in the Antarctic and in other hard-to-access areas, and under the most extreme conditions, the PistenBully Scout is the perfect means of transport.
On soggy agricultural land and in normally impassable forests, the PistenBully Scout can overcome any hurdle.
It can carry materials and workers practically anywhere – without harming the ground.
The PistenBully Scout is a valuable mining assistant, whether above ground or below.
Public utility companies in the water, oil, gas and telecommunications industries also use the PistenBully Scout to reach the most inaccessible places, in order to extend or service their network.
As an emergency and rescue vehicle, the PistenBully Scout safely recovers and rescues people from the most extreme spots.
The PistenBully Scout takes tourists to secluded, idyllic and exciting locations, with the ride on a PistenBully Scout representing an experience in itself. In order to satisfy many tourists' technical curiosity and thirst for adventure, a PistenBully Scout is a worthy addition to the fleet of any adventure or event tourism operator.