Combined Tracks Plus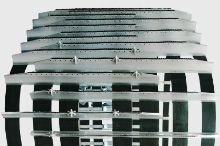 These all-round tracks are the perfect combination of light-weight aluminium cleat and high-performance cutting edge. The powerful and extremely wear-resistant broader track plates represent high stability and optimum power transfer. The Combined Tracks Plus can be used anywhere, from "normal" terrain to steep slopes and guarantee optimum drive and handling on any type of snow.
The new design with 7 belts distributes forces more evenly and relieves pressure on the studs and rubber belts. The staggered arrangement of the track elements offers improved climbing ability and reduces vibration. Combining the lateral guide elements and spikes reduces the component diversity still further.
X-Track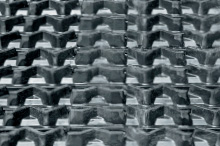 The X-Track grouser combines a steel core with high-quality vulcanised rubber cladding. The cladding has a herring bone structure that gives the chain excellent grip.
With the X-Track, a PistenBully can be driven across wooded areas, meadows and moorland with very little damage to the terrain. The track also provides optimum stability on boggy and swampy ground, thereby ensuring safe progress. The X-Track is not just a summer track. During its development, great care was taken to ensure that the X-Track would also give the PistenBully good stability and the necessary grip on snow. The X-Track is particularly suited as a protective chain when there is minimal snow coverage, but it can also be used in Indoor skicentres and for ski-run preparation. Moreover, the rubber grousers ensure quiet running on hard surfaces and asphalt roads.
Combined Track