4.5 TO WINCH: Quick and simple to operate
As a market and technology leader Kässbohrer Geländefahrzeug AG brought the first winch to the market in 1983. We draw on decades of experience in the continual refinement of the winch technology. The latest result is the new 4.5-tonne winch – it has been on the market since 2011.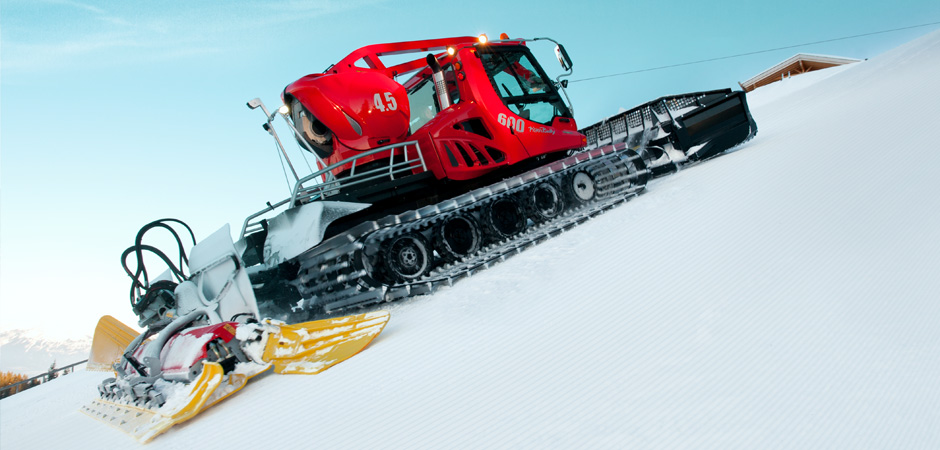 Winch machines are no longer just used in steep slope situations, but also for shifting large amounts of snow. In light of the increasing number of winters with poor snow and the associated, high costs of producing snow mechanically, winch use is not an insignificant economic argument.
Ropes now last around 20% longer
Thanks to the many innovations in the redesign of the 4.5-t winch, which range from the enlarged capstan head diameter with fewer bending cycles to the constant winch tension with rope position compensation, ropes now last around 20 % longer than before.
Kässbohrer Geländefahrzeug AG has of course thought about the driver's safety too: sensors and acoustic signals warn of any coiling errors and show the remaining available rope length. The new available rope length monitor means the driver can always see how many metres of rope he still has available. The winch comes with a 1,050-m rope as standard, but a length of 1,450 m can easily be ordered at any time from the Spare Parts department in Laupheim.
PistenBully help to reduce operating costs
The winch gearbox has been completely redeveloped for the new 4.5-tonne winch. It is now designed to last for the whole life of the winch ( the previously required inspection is no longer needed. The ease of inspection of the winch and the longer rope life reduce operating costs, increasing the cost-effectiveness of the vehicles.
Active winch control
The drive and steering tuning has also been improved with the redesign of the 4.5-t winch. This now prevents slack rope formation in borderline situations.