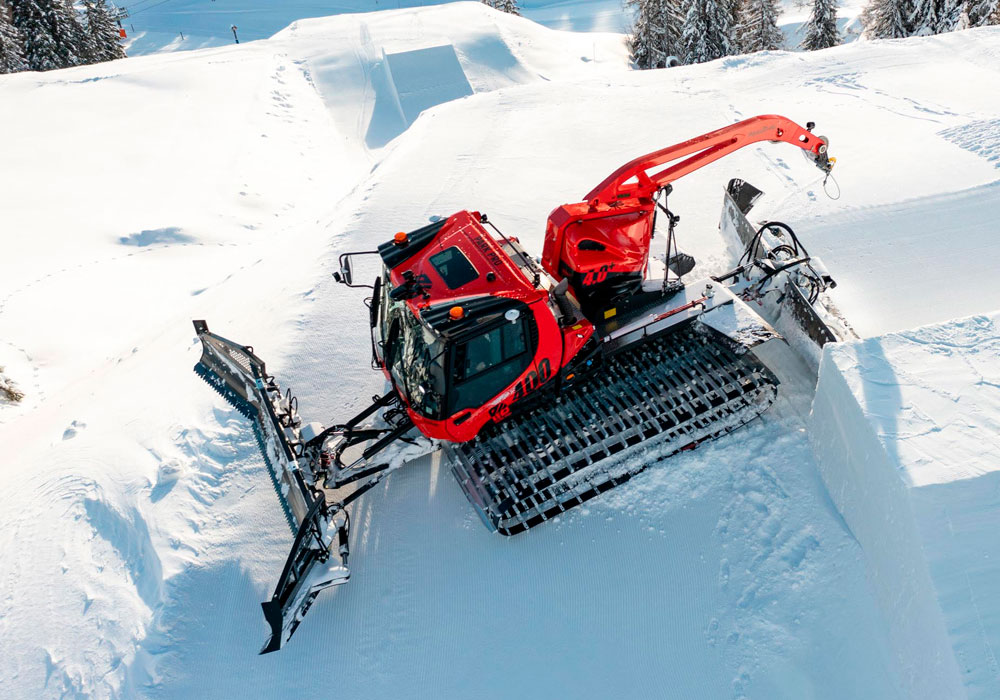 Professional tool for the park
Get in, select personalized settings, drive off – this is now possible with all PistenBully vehicles, in a completely identical manner. Because the new PistenBully 400 completes the family: An entire generation with identical operating comfort and convenience, with the cleanest exhaust technology and the most attractive performance – and all this in the familiar quality.
What remains of the old PistenBully 400 is its perfect balance of force and weight and its outstanding maneuverability thanks to its compact dimensions. What is new and significantly better is the clean engine, the comfort cockpit and the intuitive operation that is also part of the PistenBully 100 and 600 vehicles. The assistance systems are also new, which makes driving even easier. Completely prepared for SNOWsat.
Building parks without the PistenBully 400 ParkPro has been unthinkable for quite a while. The 400 ParkPro is considered the professional tool for more creativity and perfection in the snow park. A highlight of the new generation is the completely overhauled auxiliary equipment – the ProBlade and, above all, the ProFlexTiller.
Intuitive operation: Uniform and still customized
Uniform operating concept of the current generation also in the ParkPro vehicles. The joystick makes it possible to build parks with control that is intuitive but also customized. In the ParkPro, the buttons can be assigned as you please – both the function buttons and the joystick. Four operator profiles can be called up individually.
Work: Flexible and precise
Thanks to the maximum flexibility and the enhanced movement radius, there are hardly any limits to the design of the park. The new system for measuring lengths and distances provides support at an accuracy of one meter.
In the park: additional equipment for professionals
Flexible ProBlade and ProFlexTiller for extremely precise shaping and forming for ideal results. These new attachments offer more leeway for creative work and make even more unusual shapes possible. The grooming strip on the ProBlade draws the typical cord pattern even in reverse motion.
The winch: 360° unlimited
The active 4.0+ winch with AutoWinch (automatic winch tension control) can be easily operated even in difficult slope conditions. It makes the operator's job easier and is gentle on the winch rope.